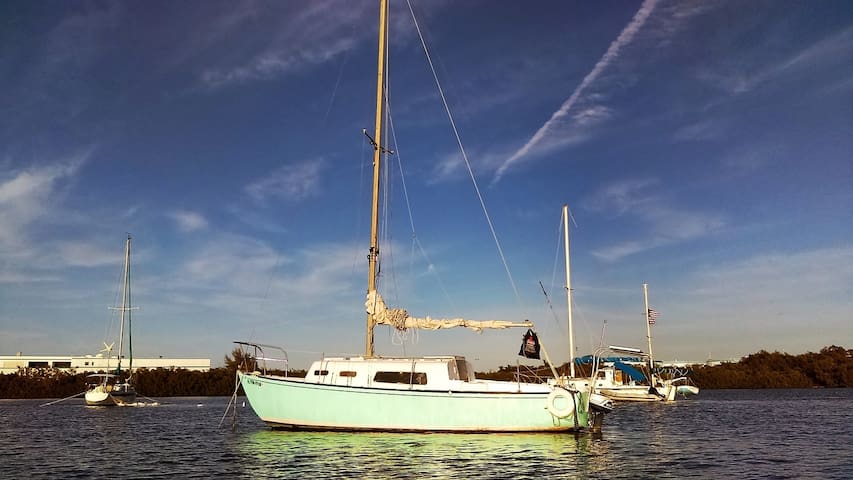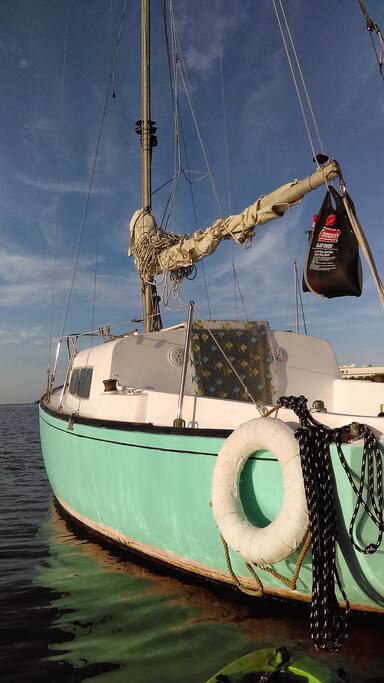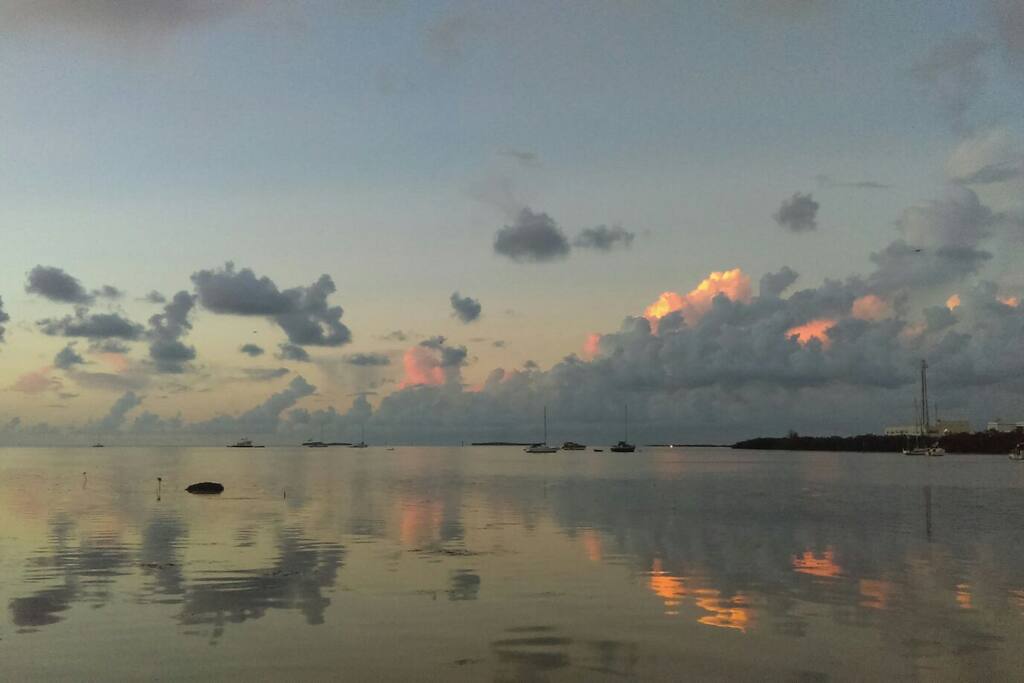 Lovely 26 ft sailboat at anchor and reachable only by kayak. Available for adventurous travelers. Perfectly cozy for two. Romantic lighting, outdoor solar shower, Butane stove for cooking, compost toilet, ice cooler, Solar panel power. Enjoy a pirate's life! Please read everything before booking.
숙소
It's a sailboat! 26ft long with standing headroom. She has no running water and is powered by the sun and wind.
The space is cute, but definitely no frills. This will be just like camping.
There is a V berth that you will be sleeping in, with two fans to keep cool on those hot key west nights. A small dinette set up and bench next to the galley counter.
There is a small kitchen area with a butane burner stove. a small pot and pan are provided, as well as some utensils. The burner can easily be moved outside to cook under the stars.
There is not a traditional marine head, but a compost toilet. If the thought of this makes you uncomfortable or grossed out, this may not be the rental for you. It is very simple to use and smells like pine instead of sewage (marine head smell). Instructions will be provided.
You shower outside in the cockpit, again, if this makes you uncomfortable, maybe its not for you. It is a lot like camping and a lot of fun!
사용가능 공간/시설
This is an accommodation rental, not a charter, so you can not sail or motor anywhere. You will have full use of the kayak with your deposit, as long as you keep it locked and respect it. (they are not cheap) , there will be no issues and you can get your deposit back.
게스트와의 교류
I work and go to school, but I will make myself available as much as I can. That being said, you are pretty much on your own unless something major happens and you really need my help.
기타 사항
This is a boat AT ANCHOR so it moves with the tides and waves. It is in a protected bay but you will still feel movement. If you are very sensitive to movement or sea sickness maybe this is not for you.
When there is a lot of wind, kayaking can take a little longer and require more effort. You should be in reasonable shape and not have any injuries. You will get wet sitting in the kayak.
To get into and out of the boat also requires balance and hoisting yourself up, please be in reasonable shape. Please also understand that this lifestyle will aquire you some bumps and bruises. Can you dig it?
---
---
---
---
Do whatever you want, enjoy life on the ocean. Just don't break anything or steal my boat.
Only USB charging available. Laptops and such can be charged across the street at Starbucks or one of the hotel bars.
The compost head is only for number two. Pee off the side of the boat. Ladies too. Trust me, it's fun.
Close hatches when you leave for the day, as it will probably rain at some point.
Always double check that you have tied off the kayak to the boat and put the paddle inside before getting off. On land, double check the kayak and paddle are locked.
If you don't like camping you really won't like this.
If you like camping, you will love this.
Swim naked under the stars and enjoy cold beers in the sunshine. Gotta love that boat life!
I am never far so feel free to call or message me with any questions.
---
이 호스트는 엄격 환불 정책을 시행합니다
체크인 30일 전까지 예약을 취소하면 전액 환불받을 수 있습니다. 30일이 남지 않은 시점에서 취소하면 1박 요금의 50%와 수수료 전액을 환불받을 수 있습니다.
---
---
---
The sunsets were amazing, the kayak out to the boat was fun and easy, our only issue was how hot it was at night, but there isn't anything that can be fixed about that when it's July, and we remedied it by sleeping outside the boat instead of in the boat. Would love to come back in November when its cooler out! Also we were a little worried about getting towed by parking in the hotel parking across the street, but had no issues. Overall exactly as described , you're camping, but on a boat.
---
Better than we expected. We were actually quite comfortable on the boat. It was hot but the two fans were enough to allow us to sleep comfortably. We found the bed area to be very comfortable. Be prepared to pee off the side of the boat and take sailors showers. There are no other options. We loved it and embraced it. We didn't really need Lilly throughout the week but for the one or two questions I had she was there to help. Kayaking was a breeze and there were times we didn't get back until after midnight. Awesome experience and would do it again in a heartbeat. Try to wake up for EVERY sunrise.
---
This was not the experience we had been lead to believe it would be by the listing description. The listing was inaccurate, the boat old and smelt strongly of gasoline, there was no gas stove as listed, the kayak to get out to the boat was cracked and leaking, the beds were small and uncomfortable (being plastic). There is a difference between an adventure (which we are always up for) and an experience like this, which was uncomfortable.
Helen, it is unfortunate that the experience did not live up to your expectations. However, I believe my listing is completely accurate, and I go into detail about what you can expect. The boat is from 1965 - oldie but a goodie. There is an engine onboard, and hence a faint gasoline smell. I was on it ten minutes prior to meeting with you and there was no smell of note. There WAS a butane stove in the kitchen, with the canister right next to it. I am not sure how a kayak can "leak" but there a is crack, in the very middle where there is no seat (which I told you about.) As for your comments about not knowing you had to kayak out and thinking it was on a (URL HIDDEN) listing states several times and always has that you must kayak out, only reachable by kayak, moored out, anchored out. I was explicit as possible. It is a 26 foot sailboat, so yes, it is small and uncomfortable. My ad is explicit and detailed.
---
정확한 위치 정보는 예약이 확정된 후 알려드립니다.