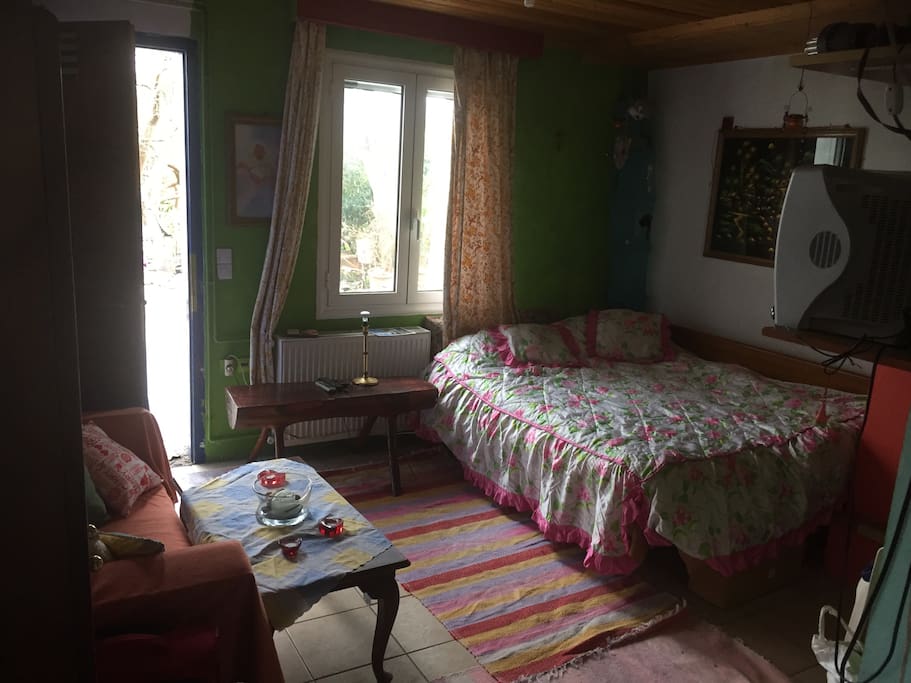 The perfect place to discover the heart of Ikaria...
숙소
Very comfortable flat with its own kitchen,bathroom and a beautiful yard with really many trees and flowers! It is in a very peaceful and quiet place but only 3 kilometers away from the central village of Raches.ideal for winter holidays too since it has a cozy fireplace. From here you can explore the nature of Ikaria, its beaches and the local festivals. There are also many hiking paths all around!
게스트와의 교류
I live next place so I am always available!
---
---
기타 알아두어야 할 사항:
반려동물이 숙소에 있습니다
---
If you want a quiet place in a rustic house in the high mountains of Ikaria in order to decompress, you can't go wrong. Eustathia will tend to your every need, and you'll even get a treat of figs and vegetables from her local garden. There's plenty of wild forest life around to explore, including hiking trails, waterfalls, and a river. The village of Christos is 3km away, and quite reachable even for people without transportation means (like me). Highly recommended!
---
Ο χώρος της κ.Σταθούλας ήταν πραγματικά όμορφος!Ένα μικρό γραφικό σπιτάκι με αυλίτσα στο βουνό, καθαρό, με όλα τα απαραίτητα για τη διαμονή μας,ιδιαίτερα δροσερό! Η οικοδέσποινα, απλή, πρόσχαρη και γενναιόδωρη έκανε όλες τις μέρες ό,τι περνούσε από το χέρι της για να κάνει άνετη και οικεία τη διαμονή μας!Την ευχαριστούμε!
---
Very special place with very special people. Ikaria is a wonderful Island and Eustathia and her family were super welcoming and made everything to make us feel home. She brought us fruits and vegetables of her garden and helped us with basic logistics of Ikaria. Iannes, her grandson, and Rita her cousin were the translators and we all became friends and even went to local festivals. The house is a bit far from the beaches, so we rented a car for two days to explore more freely the Island. But the rest of the days we hitch ride and was super easy and nice to meet people. Renting motorcycles and scooters is also an option. Very very good stay!
---
Fantastic experience with Stathoula, the owner of the house! Very confortable flat with everything you need to enjoy your holidays! Wonderful garden with lot of animals. Very quiet area close to wonderful beaches!!! Stathoula and her family are very accommodating, always willing to help us. Thank you for your very warm welcome and the gifts we received! With no doubt, We hightly recommend her!!!!!
---
We had a great time in Ikaria, especially by Eustathia. Its studio is very well placed for hiking and to discover the nature part of the island, 3 kms from the charming village of Christos Raches where you will find all facilities. Eustathia warmly welcomed us with her smile and her daily attentions (including gifts from her garden)
---