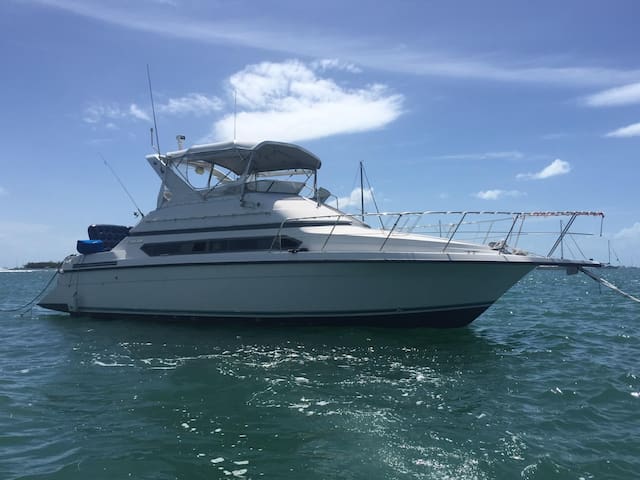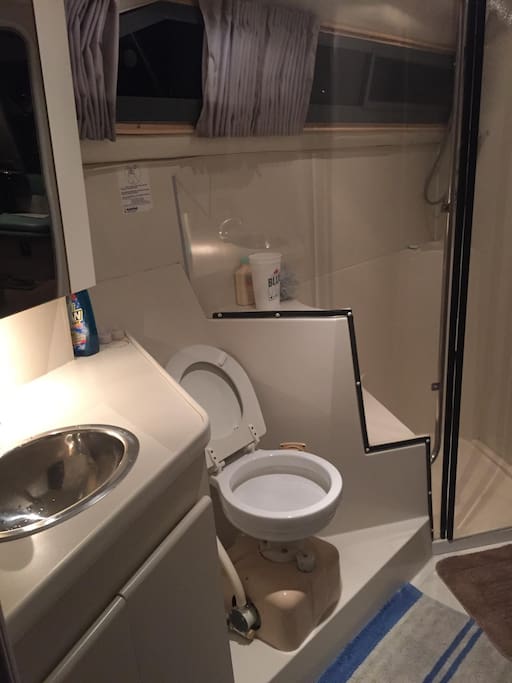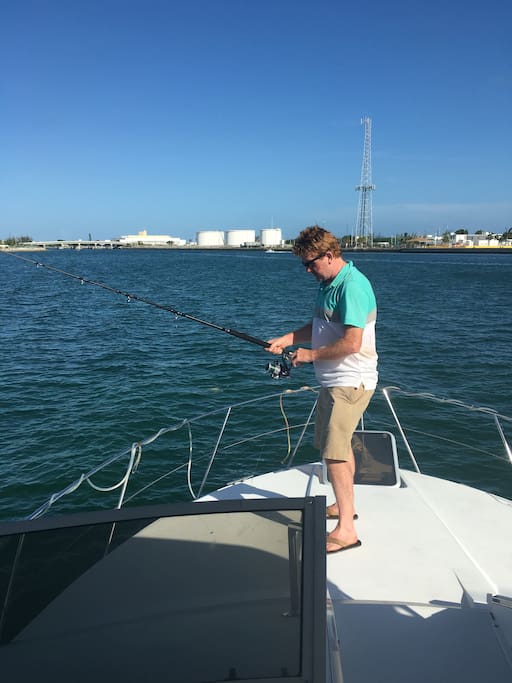 숙소 정보
Enjoy 500 square feet of borrowed ocean to play and rock you to sleep. There's a whole city about a mile across the channel you'll be a part of. A city of 300 dolphins and sea turtles. The flybridge is the spot for sunset the second night!
숙소
There is one queen bedroom and 2 small single sleeping quarters in the living area that can fit 2 tight . Upstairs has room for twin air mattress under Bimini and back deck has room for a queen air mattress if you bring some .for any more than 4 you will need your own air mattress . I recommend sleeping out under the stars ! The boat is moored permanently and does not move. There is power to charge phones . Lights are mostly solar. No fridge or shower . Shower cards are available for the marina before 5pm. If you want to have the boat brought into the dock for the night it's an extra 200$ by having it on the dock you have unlimited access . Bookings of 3 days or more will get 80$ off of the extra 200$ if you want it docked . Ask ahead cause dock space is rare
사용가능 공간/시설
Fridge doesn't run. There is a huge cooler. Bring water as well. Shower cards are available for 45$ at marina . you can share the shower card but men and women's are separate . If you are in need of shower cards let me know a day before cause the office closes at 5pm
기타 사항
The boat is moored on a 2,000lb anchor and does not move from its location about 100ft from a small island off shore . The waves do what they will of course but it is very secure . When you reserve the dock those refunds are not available
---
---
---
추가 인원 요금 : ₩46727 / 박 (3명 초과 시)
언제나 에어비앤비를 통해 대화를 나누세요.
안전한 결제를 위해 에어비앤비 웹사이트나 앱 외부에서 송금하거나 대화를 나누지 마세요.
더 보기
---
어린이(만 0-12세)에게 안전하거나 적합하지 않음
체크인 가능 시간은 18:00 - 01:00(다음 날)입니다
- Smoking only on outside back deck
- No toilet paper or feminine products in toilet. No shower. Cards can be bought at marina for showers
---
이 호스트는 엄격 환불 정책을 시행합니다
체크인 30일 전까지 예약을 취소하면 전액 환불받을 수 있습니다. 30일이 남지 않은 시점에서 취소하면 1박 요금의 50%와 수수료 전액을 환불받을 수 있습니다.
---
---
Adam is reaaaaaaly nice! He gave us a lot suggestion and and take care about my elder parents' feeling. He agreed to fully refund due to the extreme whether condition( except $25 tip that I'm happy to spare). The storming will make the boat heavily rolling on the ocean.And my elder parents can't bear this. In a word, his kindness is really precious. Really good guy and hope to see him again.
---
Cockroaches. Really, that's all you need to know... But there's more. No clear protocol in getting to the boat, he knows 'the guy' that still does the water taxi service, who was mildly interested in helping. The dinghy he's got to shuttle his guests is barely floating. No running water on the boat, he recommended using the ocean, or if we 'had to', use the pitchers to pour water down the toilet. For $250, this is a bad joke. Stay away, forever.
---
#yachtlife = definitely should be on your bucket list! Adam is a great host - very communicative and welcoming. Excellent opportunity for "glamping" (glamorous camping) minus the glitz and glam. Yacht is exactly like the pictures - highly suggest you read other reviews to set your expectations accordingly! Bring your own toilet paper & light blanket (only one flat sheet is provided)! Don't open the fridge or freezer - you'll thank me :) We'll definitely be back and would love to stay on Adam's yacht again!
---
In short, here is my advise to anybody who would consider staying on this so-called boat: don't book this place under any circumstances. I've been there with two friends and none of us will never return there again. It's been a terrible experience. It's dirty, messy, smelly, unmaintained, docked in the middle of wrecks. Adam is unreliable: he promises and breaks is word (he promised to provide shower cards and didn't show up, didn't manage to book a water taxi to go back on the boat although he offered it, kept some of our stuff although he said he would bring them back on the dock, etc.). We were afraid for our life because the small boat he uses to bring you on the big one is a wreck, also dirty and unmaintained. It doesn't even have a proper light even though he brings you there by night. The worst part of it was that Adam promised to bring us shower cards but he didn't show up, He kept sending me messages offering to meet one of his friend at the dock at different times, he didn't show up neither. I spent my whole day waiting for them, couldn't enjoy my day in Key West and couldn't wash although I staid in that dirty boat and wanted to get cleaned. You can't charge your phone on the boat but you need it to keep in contact with your host because he is the only way to move in and out the boat. You'd better to come with a survival kit. The price is certainly not worth the value. If you'd like to feel on a wreck close to a deserted island, fine. But not at that price.
---
Awesome stay, first time trying Airbnb and I'm definitely doing it again. Adam was very helpful, and provided everything we needed. Read everything closely and if you like what you see, go for it. Sleeping under the stars, and the view in the morning is lovely!! Definitely doing it again, thank you Adam.
---
정확한 위치 정보는 예약이 확정된 후 알려드립니다.