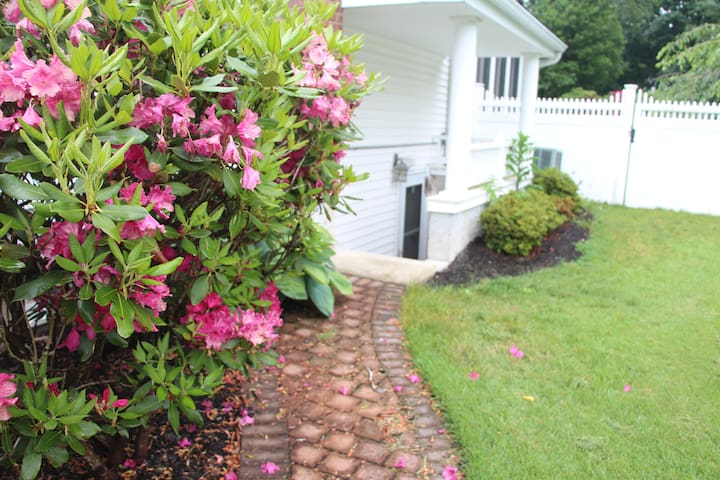 Private Suite Near Stony Brook Univ and Port Jeff
스토니 브룩 대학교 (Stony Brook University)에서 불과 몇 분 거리에 있으며 포트 제퍼슨 빌리지 (Port Jefferson Village)에서 도보 거리에있는 전용 출입구를 갖춘 전용 스위트 룸을 즐기십시오. 전형적인 호텔 스튜디오보다 더 여유로운 공간이 제공되므로 침실, 욕실, 냉장고, 전자 렌지 등을 이용할 수 있습니다 (러닝 머신 사용 포함). 포트 제프 빌리지 (Port Jeff Village)까지 활발한 산책로를 타고 멋진 쇼핑, 식사 및 해안가 경관을 감상하십시오. SBU에서 마을 활동을하고 있다면 학교로 향하는 버스가 몇 블록 떨어진 곳에 정차합니다.
Enjoy a private suite with its own separate entrance just minutes from Stony Brook University and walking distance from Port Jefferson Village. With more room to relax than a typical hotel studio, you'll have your own bedroom, bathroom, fridge, microwave, and more (including use of the treadmill!). Take a brisk walk downhill to Port Jeff Village for great shopping, dining, and waterfront views. If you're in town activities at SBU, a bus headed to the school stops just a couple blocks away.
---
이 숙소는 출장용 숙소로서의 편의 시설을 갖추고 있습니다.
---
---
---
- Access to backyard swimming pool and outdoor shower allowed when pool is open; swimming is at YOUR OWN RISK and unsupervised
---
이 호스트는 엄격 환불 정책을 시행합니다
체크인 30일 전까지 예약을 취소하면 전액 환불받을 수 있습니다. 30일이 남지 않은 시점에서 취소하면 1박 요금의 50%와 수수료 전액을 환불받을 수 있습니다.
---
---
---
We are a family of four living in Port Jefferson, NY and loving everything this area has to offer. I grew up in California and my husband grew up in Ohio. In 2014 we moved here from San Diego for his job at Stony Brook University.
언어:
English