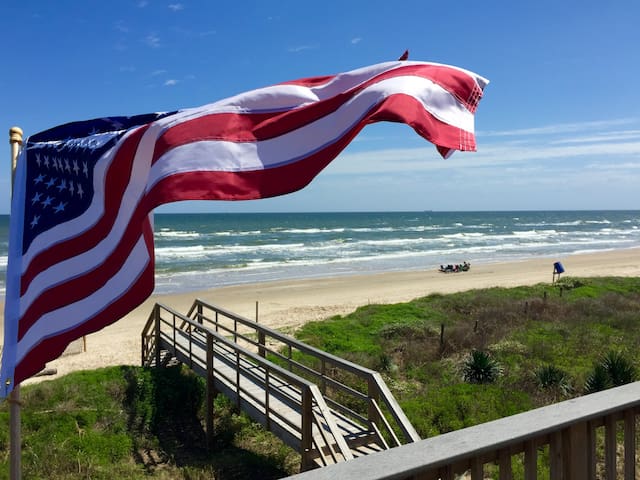 Beautiful 2013 front row beach house setup to accommodate 2 large families, or 3 small families. AMAZING ocean views and you can watch the kids play on the beach from your patio. High Speed (12mbps) wireless internet, and Satellite TV (Dish 120+).
숙소
Common Stuff the beach house has:
- All kitchen utensils needed for cooking and eating (pots and pans, silverware, plates, cups, etc)
- Towels for the kitchen and bathrooms and cleaning up
- BBQ pit (need to bring your own lighter fluid and charcoal)
- Gas Grill (need to bring your own propane)
- Coffee pot, blender, can openers, toaster
- Linens are included
- Beach chairs, beach towels, bocce ball, hammock
Items you will need to bring:
- Anything you plan to eat or drink (including anything you use to prepare your meals such as special seasoning or dressing)
- We have salt and pepper in the house
- Bring your own soap (for the shower), shampoo, and toothpaste (toiletries)
- You will have 2 paper towel rolls in the kitchen, if you need more than that, please feel free to bring additional
- There will be 2 rolls of toilet paper per bathroom (6 total in the house)
- Charcoal for grilling (if desired)
- We also have a gas grill, but you need to bring your own propane tank if you wish to use this
- Bug Spray
- Washing detergent if you need to wash clothes while you are there
- Flashlights if you want to go crabbing on the beach at night
사용가능 공간/시설
As a guest, you will have access to the entire house, as well as access to the outdoor shed which contains boogie boards, kids toys for sand castle building, big kid games such as washers, bean bags, bocce ball, and more. We also have several beach chairs, and 4 loungers that can be used on the beach or patio.
2 of the 4 bedrooms have their own private bathroom. The other 2 bedrooms share the third hall bath.
게스트와의 교류
We live in Austin Texas, so typically won't be available in person, but are always available immediately via phone, and we have several neighbors that watch the place for us.
---
---
---
- Max of 5 vehicles allowed for the reservation at anytime (we will charge $20 extra per vehicle per day beyond 5 vehicles)
- Max of 10 people on the property both day and night (we will charge $15 extra per person per day or night up to the full deposit, and people trying to throw large parties, we will get the cops involved and work resolution through Airbnb)
- We have outside video surveillance and the neighbors keeping an eye on the house daily to keep everyone honest
- NO food in bedrooms or living area
- Please do not use the decorative towels (we have plenty of towels for showering and the beach)
- Don't play in the dunes
- And most of all, HAVE A BLAST, its VACATION!
---
---
금요일과 토요일에는 최소 2박 이상 숙박해야 합니다.
---
This beach house is amazing! It was everything we hoped for during our 9 person family beach vacation. We had 4 kids in the house under the age of 10, and it was so perfect for small kids. The highlights were being able to walk directly to the beach (without loading up the car), the stock of beach toys provided, counter top seating for kid meals, and the awesome bunk beds. It was a kids dream come true! The view, balcony and hammock was so nice and relaxing. Melissa was a wonderful host, and her communication was top notch. We knew exactly what to expect, what to bring, and there was never any uncertainty. We will definitely stay here again. =)
---
This is a great rental for a relaxing family vacation! The house was clean and we enjoyed staying in a nice well-decorated beach house. The only thing unexpected was that many people choose to drive their cars along this beach, so you want to watch the little ones carefully when heading to and from the house. We would absolutely stay here again though. Great house and great location!
---
We were a group of 9 people and a baby who stayed for the weekend. This house was perfect for us and we barely left the amazing front porch except to swim in the ocean. The house is very clean and comfortable, with great beds. We had lovely meals and conversation here and made lots of great memories. You will really enjoy your visit here. Melissa is very accommodating.
---