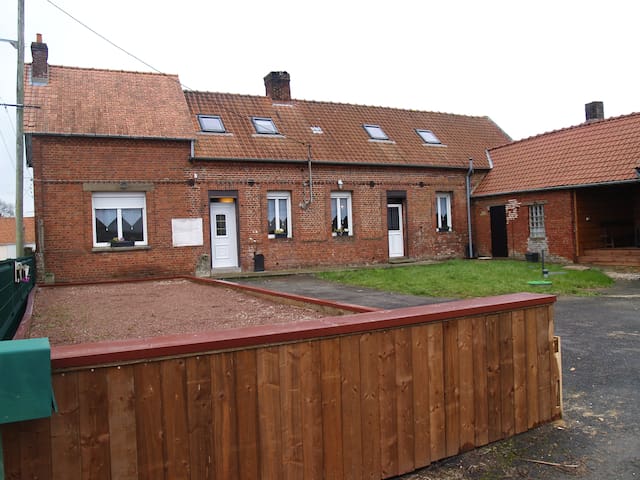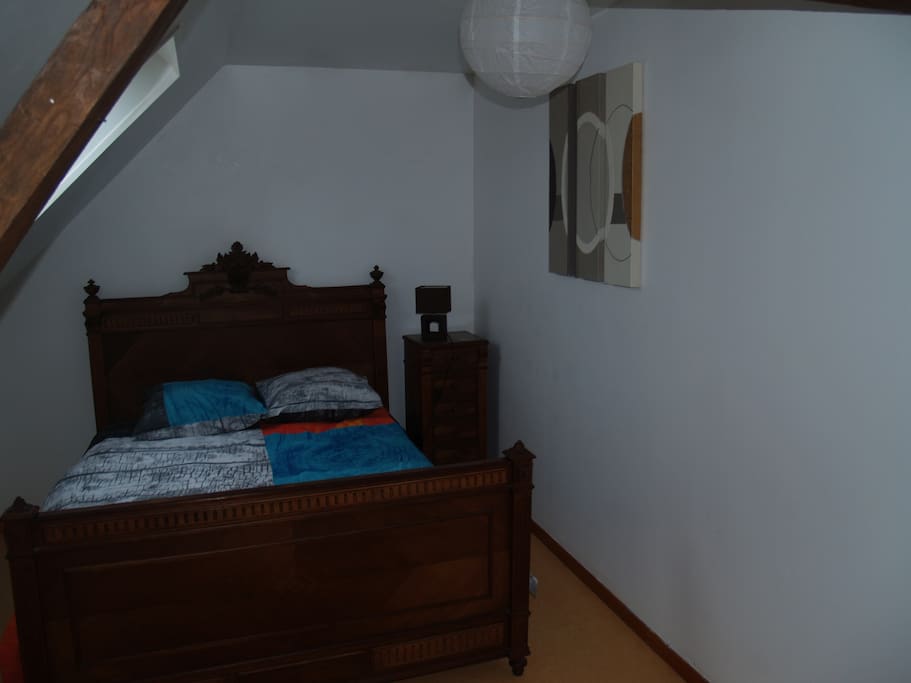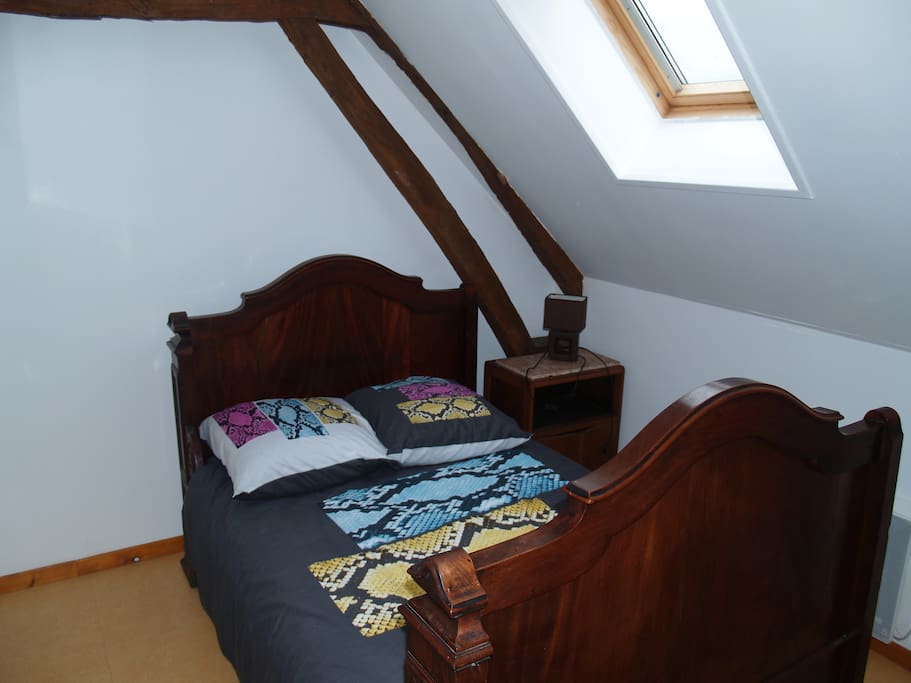 Dans un village paisible à 25kms d'Arras et 30kms d'Amiens, cette fermette en briques entièrement restaurée vous accueille pour weekends de détente, réunions de famille, d'amis, etc.
Fully restored typical farmhouse 1 hour's drive from Channel coast
숙소
Deux grands séjours avec feu de bois, salle de billard, grande salle de bains, cuisine équipée, 3 WC (1 au rez-de-chaussée, 2 à l'étage). A l'extérieur, boulodrome, pelouses et terrasse couverte. Cour fermée, abri motos fermé.
Chauffage électrique dans toutes les pièces.
Tous commerces à 4kms (Pas en Artois)
LOCATION POUR 2 NUITS MINIMUM

The house includes two spacious living-rooms, both with wood-burning stoves, a billiards-room, a large bathroom, fully equipped kitchen, 3 toilets (1 downstairs and 2 upstairs). Outside offers a full-size pétanque court, covered sitting area and lawns. Off-road parking and small garage for motorcycles.
Electric heating throughout.
Shops are 4kms (2.5m) away
BOOKINGS ARE FOR 2 NIGHTS MINIMUM
사용가능 공간/시설
Si vous êtes quatre personnes ou moins, vous disposerez de tout le rez-de-chaussée et d'une partie de l'étage (2 chambres et 1 toilette). De 5 à 8 personnes, vous aurez accès à la totalité de l'étage (3 chambres et 1 toilette supplémentaire).
For parties of 4 people or less, you will have access to the ground floor and half of the first floor (2 bedrooms and toilet). Parties of 5 to 8 will have access to the whole of the first floor (3 more rooms and one toilet).
게스트와의 교류
Jeune retraité habitant la région depuis plus de 30 ans, je serais heureux de vous faire découvrir ses attraits. Si l'histoire et le tourisme de mémoire vous intéressent, vous pourrez découvrir les champs de bataille de la Grande Guerre, les villes d'Arras (à 25kms) et d'Amiens (35kms) et leur riche patrimoine artistique et architectural, ainsi que le Louvres Lens.
Amateur et pratiquant assidu de moto ancienne, je serai heureux de vous indiquer quelques itinéraires pittoresques. Le circuit de Croix-en-Ternois se trouve à une demi-heure à peine.
A recently retired university lecturer, I have lived in the region for over 30 years and would be very happy to show you some of its attractions. If you are interested in history and rememberance tourism, the Somme Battlefields are there for you to explore. The cities of Arras (25kms away) and Amiens (35kms away) offer a wealth of artistic and architectural heritage. The Louvres Lens museum is just 30kms up the road.
As a keen classic and vintage motorcycle enthusiast, I shall be pleased to show you a variety of interesting routes. The road circuit at Croix en Ternois is just half an hour's ride away
기타 사항
Si vous avez une petite faim, et pas envie de vous mettre aux fourneaux, ni même d'ouvrir une boîte, des repas peuvent vous être livrés sur réservation préalable, à des prix raisonnables
If you do not feel like cooking, or even opening a tin, meals can be delivered by prior arrangement at moderate prices.
Animaux de compagnie: on adore les chiens, les chats, et autres bêtes à poils (ou à plumes). On aime bien, aussi, que la maison soit présentable pour les prochains invités. En d'autre termes, toutous et minous acceptés, mais pas à l'étage, et pas dans les lits, surtout!
Tabac: Tout le monde n'aime pas l'odeur du tabac (surtout froid). Les fumeurs sont gentiment invités à fumer à l'extérieur. Ils disposent d'une terrasse couverte où s'abriter si le temps n'est pas de la partie (ce qui est rare dans le 62).
Nettoyage: un forfait de 40€vous sera demandé, 60€ à partir de 3 nuitées et / ou au-delà de 4 personnes.
Les draps / couettes sont fournis
What to do and not to do:
We love cats, dogs, and other furry friends. We also like the house to keep clean. Therefore, pooches and pussycats are not allowed upstairs, and NOT in/on beds.
Smoking: if you enjoy having a smoke with your friends, please do it outside. Stale tobacco does NOT smell nice.A covered area is there for you to enjoy your smoke even if the weather is no good (unlikely in northern France)
Cleaning: A cleaning fee of €40
will be charged, €60 if stay exceeds 2 days and/or there are 5 or more people
Een heerlijke plek om tot rust te komen. Simpel maar we zijn niets te kort gekomen. Om in het drukkere leven te komen moet je Even rijden, maar dat weet je als je boekt! Onze jongens hebben heerlijk gepooled en gejeu-de-bouled. We waren echt even weg! Ook leuk om tijdens de oogst te komen. Nu weten hoe dat gaat!
---
Yannick's property was perfect for our group of 5 adults. The size was fantastic. His knowledge of the district was a great help to us as we toured the battlefields and so many historical sites. Highly recommend.
---
We had a lovely time at Yannick's gîte. The house is charming, interesting and has lots of space both inside and outside. Yannick is a great host - easy to contact, very friendly and informative and very keen to make sure we had a great stay. We loved relaxing at the house with its places to sit out in the front and back gardens, its games room (pool and table football) and the boulodrome (pétanque court) outside. Most of the days we spent exploring the WW1 battlefields and I would strongly recommend Yannick's place as a base for visiting those sites. Thiepval, for example, is a drive of about 30 minutes through very pretty countryside via lots of the places mentioned in the soldier's memoirs we were following. We also had a bar-b-q using the excellent equipment and charcoal and had a really nice dinner in the relaxed bar/restaurant at Gouy, about 10 minutes drive away, which was listed in the house instructions. (Very good value, by the way!). If you need shopping, the mini-Carrefour in nearby Pas-en-Artois is an excellent little supermarket. We had originally stocked up at a massive Arras hypermarket - but you don't need to! All in all, this gîte and it's super-helpful host are very strongly recommended by me. Thanks, Yannick!
---
Great relaxing stay in Yannick and Marie's accommodation. Exceptional amount of space for living including games area, great character, good wifi, well stocked kitchen too. Best of all was the gracious hosts who were easily contactable and lots of local knowledge. So if you want a relaxing part of your holiday recommend staying here.
---
언어:
English, Español, Français, Italiano