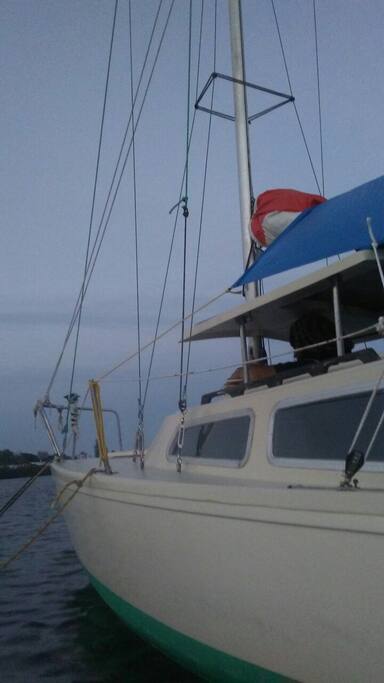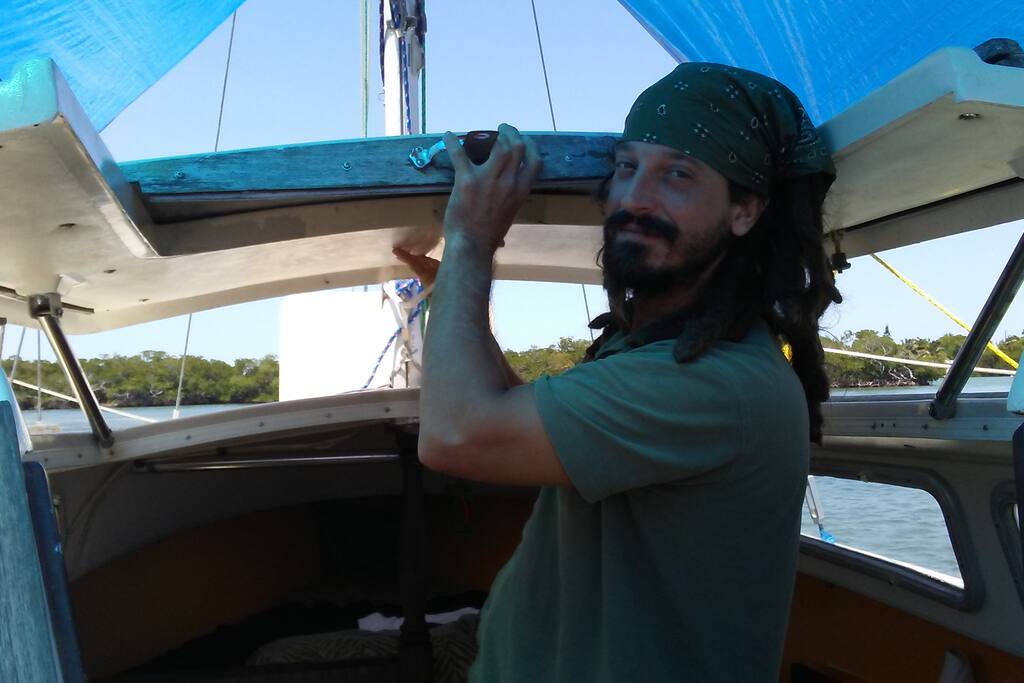 Cozy 22 Foot Eco Sailboat w/Kayaks
No frills accommodations for nature lovers! Budget camping for 2 backpackers. The 22-foot sailboat is tiny, cute & all yours. It's moored in a shallow channel, 4 miles from Old Town/Duval St. Access to shore is via short kayak by shore - FREE to use. Free Parking Spot Nearby.
숙소
YES!! We are here and renting for Fall/Winter 2017 and 18. The boat was NOT damaged in the hurricane! -----Due to the high number of Fantasy Fest requests we are working on getting additional accommodations- please ask!---3 NIGHT MINIMUM in Winter. No Pets. ---NO NIGHT CHECK INS ---If you don't see dates you want but are looking for a cheap place please message us we may have other options.
_____________________________________________________________
This is primitive CAMPING on a boat and is NOT in a marina, but a shallow channel YOU MUST KAYAK to. This boat name is the Mangrove Mango!
Your stay includes unlimited use of kayaks and there are plenty of places to explore nearby. You can come and go as you please 24/7.
This is the best value in Key West! PLEASE READ THE ENTIRE LISTING (I know it's long) before inquiring to stay.
Here are some KEY POINTS:
1. Primitive "camping" on a sailboat means no electricity or running water but solar shower (you fill with the jugs of water we provide), battery fans, and a porto potty is available.
We do have solar panels for charging cell phones and other small devices, but it is not the same as having real electricity.
2. About 4 to 5 miles to Duval Street (Old town tourism center) by car
3. Not in a Marina. You need to kayak to the boat (it takes about 5 minutes in calm conditions). Unlike other boat listings that require you to call and arrange transportation to the boat, the kayaks are available 24/7 so you can come and go as you please.
4. Three-night minimum in winter, two in summer. Not suitable for pets. No exceptions.
5. Ideal for people who like nature and outdoors.
6. Very Small space ideal for one or two people. While it is possible to fit three, is is really not comfortable. If you have more than two or are traveling in a group, consider renting both boats (The Mangrove Mango, and the Mangrove Ninja).
7. We cannot do night check ins. It is difficult in the dark to show you around. A note about driving from Miami. It does not take 3.5 hours. Don't listen to G0ogle. Average time is 4 to 5 hours, depending on stops/traffic and during holidays it can be more than that. Please keep this in mind when determining arrival times. We don't live at the boat.. we having a meeting point. We usually let you choose a time in the afternoon that works.
8. During high winds kayaking can be a little challenging. During calm weather the channel is an easy paddle, but we can't predict the weather. You should be in relatively good shape, and keep in mind if it is raining, you still have to paddle out there.
9. We have free parking space reserved nearby (5 minute walk from the kayaks). One space per reservation. Side street and overflow is nearby.
10. There is no way to cook onboard but there is a cooler. No running water...just a solar shower
___________________________________________________________
Still interested?
Please read everything before sending an inquiry. A lot of questions are answered. For even MORE information, you can check out our BL0G for videos/posts on the area: BoatCamping D0T 0rg.
This is a very small sailboat secured to a storm mooring for your safety, additionally in a shallow area for your protection. It is in a channel; not the open ocean so rocking is reduced. Keep in mind that high-winded storms will still rock any boat on the water, so if you are prone to sea sickness don't book this. Access to the ship is done via KAYAK. You cannot just step on and off of the dock because there is no dock on the water, but a short kayak away is land.
This space is basically an unusual and peaceful place to lay your head and live like a pirate (practically camping). There is no air conditioning so you'll need to leave the hatches open while on board but we do provide fans. The ceilings are low - you won't be able to stand up (although part of the boat has a "pop top" allowing additional space/air flow.
We provide locks for the kayak and sailboat to protect your belongings while you explore the local scene.
You need a car for this type of accommodation so you can leave large bags in the car (free parking). Anything you bring must travel over water by kayak...keep that in mind when packing.
Please choose a check time between 2pm and sunset. I can occasionally arrange for earlier check ins (before 2pm) if no one is checking out that day.
I will emphasize that this is for adventurous, budget travelers used to crashing just about anywhere and who are fit enough to kayak (about 5 to 10 minutes). You can throw a rock and hit the shore, and Duval Street is less than five miles drive (by car). Parking is a side street and a bus stop is right near the boat.
THINK: primitive camping on a boat. The rental is for sleeping, not sailing. At this time, we do not have a way to cook on the boat. We do have a small cooler for snacks/drinks.
Catch the sun slip below the horizon, watch egrets and other birds soar by, and gaze up at the stars. Open the top hatch above your head and fall asleep to a breeze and stare up into the night sky. See the fish jump and listen to the sounds of nature. Some guests have even seen dolphins and manatee while exploring the area around the boat. ___________________________
On a rare occasion, you may see bio-luminescence in the water.
It is an experience in its own but you must be OK with basic camping amenities. There is no bathroom just a portable potty and solar-bag shower and a bed/mattress.
We provide:
* Small fans
*A small cooler (can hold a few drinks or sandwiches)
*Battery tap lights (please turn off when not in use) but we do recommend bringing ADDITIONAL flashlights (headlamps we find are the best).
*Bed linens - fresh sheets for the 6-inch mattress, blankets, pillowcases
*Bath towels and clothespins to hang them
*Bug spray (but you may want to bring your own). The bugs aren't an issue during the day, and although they aren't terrible at night, during dusk (the hour during/after sunset) they do come out for a bit.
*Shampoo/Conditioner/soap
*Solar shower
*Batteries for fans (please turn them off when not in use. )
*Porto Potty and toilet paper (which we empty and clean, hence the cleaning fee). Please only throw toilet paper in the toilet.
*One to two kayaks with paddles (depending on number of guests) which you can have unlimited use of. There are some awesome mangrove-lined channels near the boat you can explore that feels like you are in another world.
*Life Jackets and all necessary safety equipment required by the Coast Guard.
*Large container of freshwater (to use for solar showers or other basic washing needs) which we refill as needed.
Other things on request (if not in use) such as:
*Beach amenities (roll outs to lay on, flotation devices)
*Snorkel gear

ROUGHING IT LIKE A TRUE PIRATE:
Fun and Adventurous; It is an affordable option in town and ideal for people who like to be in touch with nature, learn about the world of boating, and want a different experience. This is a different side of the the Keys.
It fits two people in one bed (who don't mind sleeping close) and the kitchen table detaches and lowers to create a second bed for a possible third person. Both beds are in the same space with little room to wander. If you are more than six feet tall this probably won't be ideal for you. You have to be extremely comfortable with each other because there is little privacy within the boat.
We clean the boat regularly but it isn't a dazzling work of art. It's an old live-aboard boat that we are breathing new life into specifically to give budget travelers another option.
Sorry; no pets. The set up of this ship being out on the water just isn't ideal for them.
We (The owners) are Zappa and Amber, young (in our early 30s..) lifelong travelers and live nearby in a marina on another boat (that we also rent) in case any major concerns arise. But, for the most part you're on your own.
Getting in the boat involves climbing up a ladder from a kayak and hauling yourself into the boat. This can be a little tricky but most people in relatively good shape can handle this. Additionally, the kayaks are sit in and do have a weight limit.
사용가능 공간/시설
The entire boat is yours to sleep on and you can use the kayak (s) as you wish. There are many areas and mangrove mazes near the boat for you to explore. Please note that the boat is not for you to go sailing on - only sleeping.
게스트와의 교류
We check you in and show you the boat. After that we might stop by and see if you need anything if we are out on the water. We are only a phone call away if you have questions. We do recommend having a working phone so you can let us know if you are stuck in traffic, have a flight delay, or any other issues that can arise while you are out on the water.
기타 사항
Lock it up! It's highly recommended by every local boater, moored or anchored on the water, to never leave the boat unlocked while unattended.
Getting into the boat involves hoisting yourself up on the ladder from a kayak that is in the water and climbing over. It can be a little tricky. Please keep in mind your own physical limitations and ability. Additionally, the kayaks are designed for average-sized individuals.
There is no water taxi. We are very close to shore.

We are charging a deposit for the use of kayak and gear and to ensure the boat remains in the condition it was before. Assuming you respect the boat and don't lose the kayak or other gear, you won't have to worry about it. Kayaks are not cheap!!!
A boat is not the same as a hotel. You should NOT book this accommodation if:
*You are very prone to seasickness. Although it is in a protected cove to minimize rocking, wind or other boats going by can cause motion.
*You don't like boats, kayaking or are scared of the water. I know this goes without saying, but yet it still happens.
*You need creature comforts like flushing toilets and running water. (We do have jugs of water, porto potty and solar shower onboard).
*You can't handle heat at all. Keep in mind that the Keys are hot and humid from June through October/November. It starts to cool down in November- April/May. Being on the water will create a breeze, but if you are a "winter person," you might want to go the traditional route of a hotel.
*If you can't handle small spaces or are large or very tall.
*If you have mobility issues or cannot kayak. If you have any type of injury to hands, feet, etc... this isn't a good option.
---
---
어린이(만 0-12세)에게 안전하거나 적합하지 않음
체크인 가능 시간은 14:00 - 19:00입니다
Please read this description/listing in it's entirety (twice,discuss, and read a third time) before booking to make sure it is for you. We know it is long, but it is very unique.
NO DRUGS, and no smoking in the boat. Just close the door if you smoke on the outer deck so it doesn't smell like smoke inside.
No pets, since there is no place for them to go to the bathroom.
Lock the boat and kayaks when you leave. Turn off fans and lights - the batteries are VERY expensive to run these and we want to keep rates low.
Please clean up after yourself. Yes, we have a small cleaning fee to empty and clean the porto potty (and thoroughly clean the boat when you leave), but we ask that you wipe up any minor spills or other minor messes using the towels/rags provided. Thank you.

Please call us if you are running low on jug water, batteries, or any other camping needs and we will be happy to drop them off. Don't hesitate to ask if there is anything else you need (or forgot to bring) and we'd be happy to let you borrow (sunscreen, bug spray, etc...
By staying on the boat and using kayaks, you agree to take responsibility for any slips, falls, or other injuries that can occur while out on the water. We are providing an unique, floating accommodation so we do require you sign a standard liability waiver upon arrival.
When checking out, please leave parking pass in kayaks.
---
Staying on the Mango was an excellent way to experience Key West! Zappa and Amber were great hosts and went above and beyond to make our stay awesome! Kayaking to and from the boat was much easier than expected. We planned on exploring the Keys more than we did, but had such a blast just hanging out on the boat we stayed there most of the time. Thanks for a great stay guys!
---
This was really a unique experience to sleep on zappas little cozy sailboat. It's small but if you're alone that is totally fine ! You fell really well balanced there .. and Zappa is wonderfully caring and open minded and is willing to help you with any kind of problem !!! You will love the feeling of the sunrise in the morning alone on your sailboat... But you have to be able to Kajak by yourself, so I wouldn't recommend staying here if you have some damages on your shoulders or so.
---
Zappa is a great host went out of his way to help ! The boat was cute , clean , and in a great location ! We very much enjoyed kayaking the waters and being able to swim and snorkel right at the boat !
---
This was an amazing experience and I plan to return as soon as I can! Amber met me during check in and showed me everything I needed to know about the boat. They checked up on me during my stay to make sure I was all right and that I had all the supplies I needed. As a solo female traveler I felt completely safe, and I cannot emphasize how peaceful it was to sleep on board the Mangrove Mango!! What a great experience!! 5/5
---
I'm a long-time, Key West resident who loves to show people the local side of they Keys! I'm a musician, work for a tour company called Kayak Kings, and I enjoy meeting new people. If you are staying on the boat you'll probably meet Amber as well :) More info about our boat re…