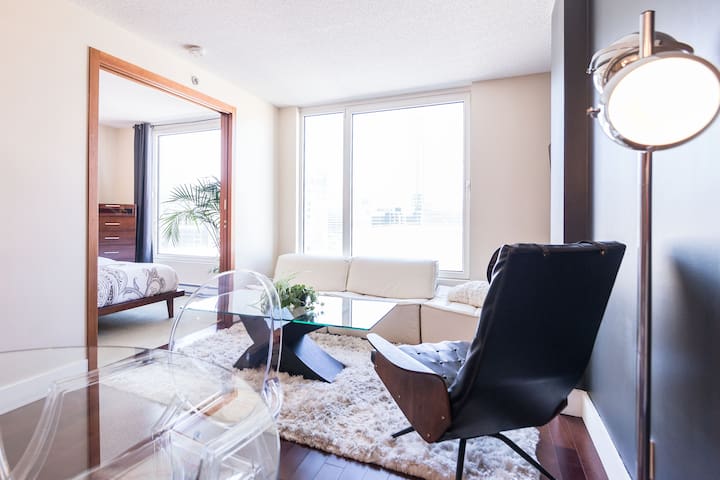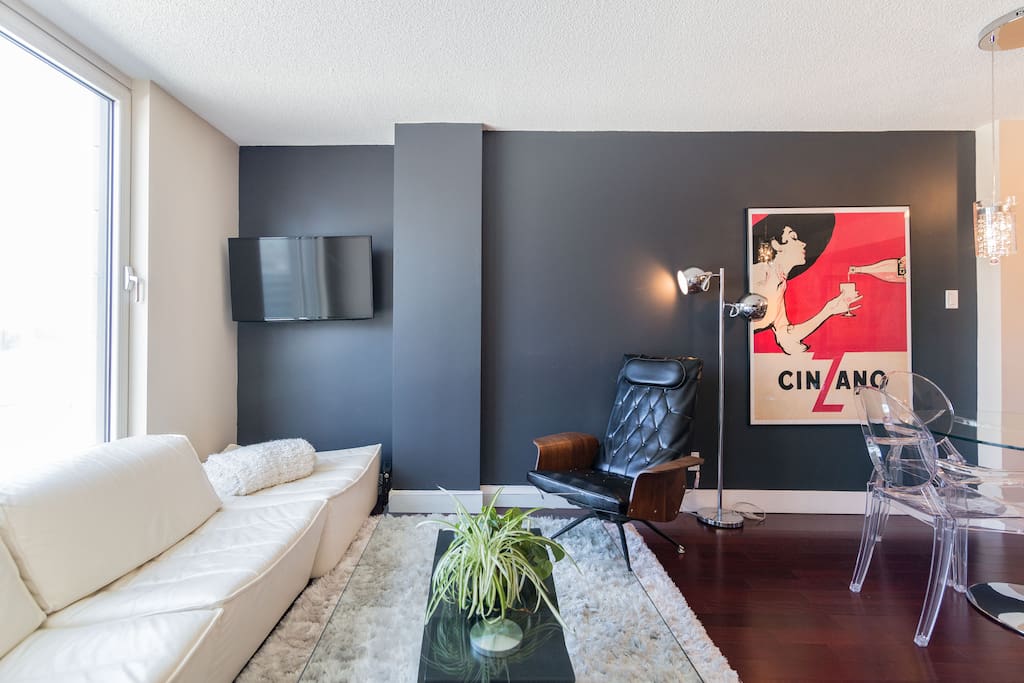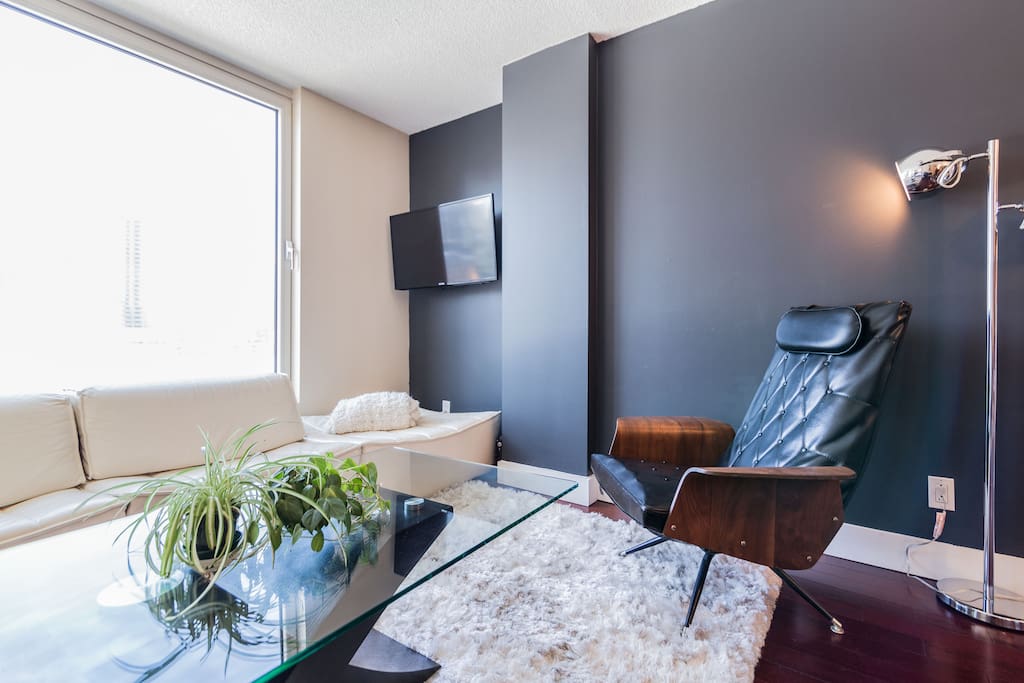 이 아름답고 넓은 1 베드룸 아파트는 집과 같은 완벽한 집입니다. 역사적인 항구와 도심을 접한 몬트리올의 중심부에 이상적으로 위치하고 있습니다. 여러분은 사치와 매력의 중심에 있습니다.
This beautiful and spacious one bedroom apartment is a perfect home away from home. Ideally located in the heart of Montreal bordering the historic old port and downtown, you're in the midst of luxury and charm.
숙소
몬트리올 (Montreal)의 유서 깊은 옛 항구의 중심부에있는 멋진 도시 스카이 (SENSITIVE CONTENTS HIDDEN)을 갖춘이 아파트는 실망시키지 않을 것입니다. 빈티지와 모던 한 문장으로 아름답게 디자인되었으므로 절대 떠나지 않을 수도 있습니다. 주머니 문은 편안한 편안한 퀸 사이즈 침대와 벽으로 둘러싸인 옷장을 자랑하는 아늑한 침실을 숨겨 둡니다. 몬트리올 (Montreal)의 쿼터 데 스펙타클 (Quarter des Spectacles)의 장엄한 전망을 통해 눈을 감 으시거나 블랙 아웃 커튼 뒤로 숨길 수 있습니다. 아파트에는 냉장고, 스토브, 전자 레인지 및 화강암 카운터에 프레임 된 식기 세척기를 포함한 모든 스테인레스 스틸 가전 제품이 있습니다. 몬트리올에서의 완벽한 체류를위한 완벽한 장소입니다.
With gorgeous city skylines from the heart of Montreal's historic old port, this apartment will not disappoint. Beautifully designed with both vintage and modern statement pieces, you may never want to leave. Pocket doors hide away the cozy bedroom boasting a super comfortable queen sized bed and wall-lined closets. Let the spectacular view of Montreal's Quarter des Spectacles entertain you as you close your eyes, or hide it away behind blackout curtains. The apartment has all stainless steel appliances including Fridge, Stove, Microwave and Dishwasher framed in granite counters. This is a perfect perfect pied de terre for your Montreal stay.
사용가능 공간/시설
렌터카는 Embassy Suites 호텔의 로비, 라운지 및 체육관을 이용할 수 있습니다.
Renters have access to the lobby, lounge and gym of the Embassy Suites hotel.
게스트와의 교류
최대한 내 고객을 읽으려고 노력합니다. 나는 지역과 레스토랑이 있어야만하는 곳으로 안내 할 지역의 도움을받는 것뿐만 아니라 주인과의 약간의 상호 작용을 완전히 독립적으로 할 수있는 능력이 있다는 것을 잘 알고 있습니다. 내가 도착했을 때 당신을 만나고 인사 할 필요는 없습니다. 그러나 고객이 이상한 도시에서 우호적 인 얼굴을 원한다면 그렇게하는 것이 기쁩니다. 주저하지 말고 도움을 청하십시오. 나는이 도시를 사랑하며 올바른 방향으로 당신을 가리켜 줄 것입니다. :)
I try to read my clients as best as I can. I understand the merits of both having the ability to be fully independently with little interaction from the proprietor as well as having the help of a local to guide to the must have areas and restaurants. It is not necessary to have me meet and greet you on your arrival, however, it is also my pleasure to do so if my clients would like a friendly face in a strange city. Please do not hesitate to ask me for assistance. I love this city and would be happy to point you in the right direction. :)
기타 사항
I have available for approved guests my 2015 Lexus RX 350 for an introductory price of $100 which includes all taxes fees and secure underground parking.
Parking is $25 per day. Please make sure to take our parking card before entering the garage. Our price is a reduced price so we do not be responsible for refunding the money if clients bring the regular card. (Super Important)
Please take our card first and then enter the garage
Extra daily housekeeping is available at extra cost
Breakfast served at extra cost
Early bag drop off or late bag storage is served at extra cost: 10CAD per time
Extra daily housekeeping is available at extra cost
---
이 숙소는 출장용 숙소로서의 편의 시설을 갖추고 있습니다.
---
---
---
Absolutely no parties, no smoking or vaping of any kind. A fine of $300 will be charged if this happens. Only the guests who booked are permitted to stay in the apartment.
This is not a hotel, your neighbours live here and go to work from here, parties are prohibited and I ask you to please keep the noise at respectable levels past 11pm. Neighbours have been known to call the cops on parties and fines have been issued. Thank-you so much :)
Please also remove your shoes at the door. The salt from outside during the winter is very damaging to the floors. It is greatly appreciated. Thank-you.
---
---
---
Hi! Welcome to my suites. My name is Paige and I am here to make your stay as comfortable and welcoming as possible. As a passionate traveler, I have always preferred the unique stays offered in furnished apartments over hotels.

A big life change lead me from Western Canada to Montreal where I'd find myself studying at McGill University. It was during this time I started renting my furnished apartments to help finance myself through my degree. I am still working through my degree, but have found myself in another major life change: Mommy-hood. As of January 2015, I am 6 months pregnant and my business of renting corporate and vacation stays in the Old Port and Plateau/Downtown of Montreal has grown into 8 apartments/condos.

I love what I do, I love providing perfectly located apartments for business and vacation travellers. Not only have I been granted the creative outlet I crave for the designer in me to play, but my little Stays by Paige company is a part of a much bigger vision I have in equipping and fostering community growth among other entrepreneurs and visionaries with hopes of providing real tools and concrete solutions to aid the more marginalized people of Montreal's society.

Please do not hesitate to contact me with any questions.

Please also feel free to find and like my page to get great links to whats happening in and around Montreal during your stay.



Paige

Owner Stays by Paige
언어:
English